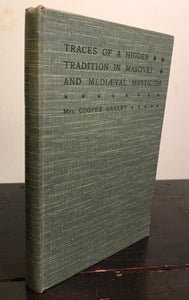 1900 - MASONRY AND MEDIAEVAL MYSTICISM - ISABEL COOPER-OAKLEY 1st/1st, Occult
Regular price $125.00 Sale
  TRACES OF A HIDDEN TRADITION IN MASONRY AND MEDIAEVAL MYSTICISM: FIVE ESSAYS — By Isabel Cooper-Oakley — 1st Edition / 1st Printing, 1900 — Medieval Folklore, Middle Ages, Freemasonry, Knights Templar, Holy Grail, Occult

 Publisher: The Theosophical Publishing Society, Benares (1900)

A scarce series of comparative essays examining the relationship and the effect of mediaeval mysticism on the symbolism and ritual development of Freemasonry. First edition from 1900, in very well preserved condition. Green cloth boards; 192 pages. The boards and binding are solid and tight with minimal shelfwear. The pages are crisp and clean save for small occult bookstore label on the inside front board. Light foxing on the title page borders and the last three pages. Chapters include: Towards the Hidden Sources of Masonry; Traditions of the Knights Templars Revived in Masonry; The Troubadours; The Heavenly Kingdom of the Holy Grail.