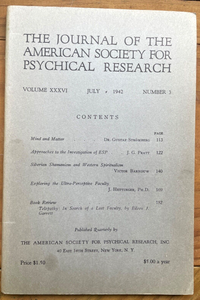 1942 JOURNAL OF AMERICAN SOCIETY FOR PSYCHICAL RESEARCH ASPR - SHAMANISM SPIRITS
Regular price $28.00 Sale
THE JOURNAL OF THE AMERICAN SOCIETY FOR PSYCHICAL RESEARCH — Volume 36, Number 3, July 1942
Book Details + Condition: The American Society for Psychical Research, Inc. (New York). First Edition, 1942. Softcover journal. 70 
pages. July 1942 issue of the Journal of the American Society for Psychical Research, the oldest parapsychology research organization in the United States whose 
mission has been to explore extraordinary or as yet unexplained phenomena that have been called psychic or paranormal, and their implications for our understanding of consciousness, the universe and the nature of existence.
 Founded in 1885 
by a distinguished group of scholars and scientists who shared the courage and vision to explore the uncharted realms of human consciousness, among them renowned Harvard psychologist and Professor of Philosophy, William James. Many of the early participants were pioneers in psychology, psychiatry, physics and astronomy. Freud and Jung were honorary members. Luminaries from a wide range of disciplines have been drawn to the Society throughout its history
.
This volume contains essays including Mind and Matter; Siberian Shamanism and Western Spiritualism; Exploring the Ultra-Perceptive Faculty; 
and more. Paper binding with black lettering to cover.
Firm binding; light wear to original covers; interior is clean and free of markings. Please see our other listings for more ASPR journals.