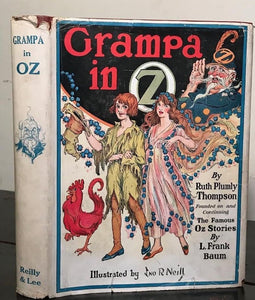 GRAMPA IN OZ - RUTH THOMPSON - ORIGINAL SCARCE DUST JACKET, COLOR PLATES
Regular price $199.00 Sale
  GRAMPA IN OZ — By Ruth Plumly Thompson, Illustrated by John R. Neill — 1924 HC/DJ, with Original Scarce Dust Jacket — Color Plates

 Publisher: The Reilly & Lee Co., Chicago (1924)

In exceedingly well preserved condition. The boards and binding are solid and tight save for light shelfwear. All twelve (12) plates are present. The pages and color illustrations are crisp and clean. The scarce dust jacket is in well preserved condition save for some chipping to the spine ends and overall light wear. It remains uncut, with the original price present. This appears to be a later printing, with "Captain Salt in Oz" listed as the last book on the dust jacket.