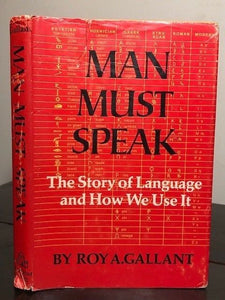 MAN MUST SPEAK The Story of Language & How We Use It - Roy Gallant, 1st/1st 1969
Regular price $49.00 Sale
  MAN MUST SPEAK: THE STORY OF LANGUAGE AND HOW WE USE IT — By Roy A. Gallant — 1st Edition / 1st Printing, 1969 HC/DJ — Languages of Animals, Creation of Written and Verbal Language, Development of Different World Languages

 Publisher: Random House, New York (1969)

First edition from 1969, in very well preserved condition. The boards and binding are solid and tight with minimal shelfwear. The pages are crisp and clean. 177 pages, with illustrations and still-uncut pages at rear. The dust jacket is in good condition with some repaired tears, but it holds the book firmly. The jacket remains uncut, with the original price still present. Topics include: How Animals Communicate; The Origins of Speech and Language; Man Invents Writing; The Development of Language, and more.