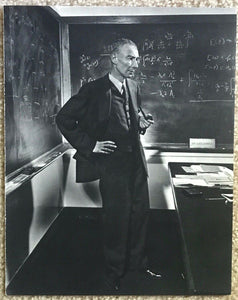 Vintage YOUSUF KARSH Photogravure Portrait Photo, 1960s - J. ROBERT OPPENHEIMER
Regular price $49.00 Sale
Photographer: Yousuf Karsh (Armenian-born Canadian, 1908-2002). Internationally renowned photographer best known for his iconic portraits of historical figures including world leaders, artists, writers, athletes, actors, scientists, intellectuals, and more.
Subject: Portrait of Julius Robert Oppenheimer, American theoretical physicist and professor of physics at the University of California, Berkeley. Oppenheimer was the wartime head of the Los Alamos Laboratory and is among those who are credited with being the "father of the atomic bomb" for their role in the Manhattan Project, the World War II undertaking that developed the first nuclear weapons. The first atomic bomb was successfully detonated on July 16, 1945, in the Trinity test in New Mexico. Oppenheimer later remarked that it brought to mind words from the Bhagavad Gita: "Now I am become Death, the destroyer of worlds." In August 1945, the weapons were used in the atomic bombings of Hiroshima and Nagasaki, which resulted in Japan's unconditional surrender. 
Type Of Print: Authentic vintage photogravure (Etched plate made from the original image, and authorized by Karsh)
Date Of Print: 1960s
Original Issue: Bound sheet-fed photogravure
Image Size: 9.5" x 12"
Finish: Satin Matte
Print Border: No border; full bleed print
Condition: 
Very good: slight wear to left side of image where it was bound into original portfolio; text on reverse
For sale is an authentic (NOT a modern reprint) vintage 1960s photogravure (also known as a héliogravure) by the internationally renowned Canadian photographer Yousuf Karsh. This vintage sheet-fed gravure plate was originally issued as part of a now rare bound photogravure portfolio, engraved and printed in quality photogravure. The paper is of fine quality and the prints themselves are beautiful. Karsh himself wrote the following words regarding these richly crafted photogravures: "for the first time the photographs that have been my life's work were reproduced by a mechanical process with complete fidelity. So true is the result, indeed, that friends have said they find it difficult to distinguish between these photogravure plates and the hand-printed originals from my darkroom. The production of these plates involved considerable technical achievement. But technology is only a means to an end. More significant and gratifying to me is that many thousands of people, who previously may not have seen an original Karsh photographic print but had to rely on the often inadequate reproduction of standard printing methods, were now able to see the fine details, the subtle graduations, the delicate nuances which reveal underlying character". Yousuf Karsh's iconic photographic portraits are held in museums and important photography collections throughout the world.